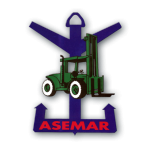 Asemar 1994, Equatorial Guinea.
Asemar is a maritime-land shipping and logistics company. It specializes in port operations involving handling of goods, loading and unloading containers, horizontal movements and transport to the final destination.
Asemar is a company which is constantly expanding and constantly investing in equipment and infrastructure, which makes it the logistics reference in Equatorial Guinea.
Its large land and maritime fleet is made up of:
115 trucks
3 cranes
3 tugboats
Forklifts
Service garage
3 self-propelled flatboats
Asemar, in Bata, guarantees a comprehensive and customized service to its customers, thanks to its expertise, autonomy and quick action.